NEW YORK, NY—Weinstein Books has acquired a new book by acclaimed journalist and author Lily Burana. To be published in spring 2009, I LOVE A MAN IN UNIFORM is a memoir of an unlikely Army wife with a punk-rock past and her extraordinary personal transformation from bohemian East Villager to resident of the ultimate conformist community of Army culture—West Point.



Weinstein Books President and CEO Rob Weisbach won North American, audio, and first serial rights from Tina Bennett at Janklow & Nesbit Associates. Says Weisbach, "Lily's bare-knuckled candor, fearless wit, and hard-won insight will resonate not only with the vast community of military spouses in the United States and outsiders curious about the domestic side of military life, but also with anyone who has experienced an unexpected ideological shift as a result of a personal relationship."



I LOVE A MAN IN UNIFORM is Burana's raw, honest, and compelling story of an authority-averse woman who falls in love with a military officer and becomes a modern military spouse. The book will provide a firsthand account of living within the confines of regimented life on an army post where she endures almost-unbearable loneliness and uncertainty following her husband's deployment and reconciles her own uneasiness towards the war with her husband's professional obligations. Burana's husband, an Army Lieutenant Colonel, is currently on staff at the United States Military Academy at West Point. He is a veteran of both the Gulf War and Operation Iraqi Freedom.


**********

Listen, it's hard out here for a memoir-pimp, what with all these fakey-fake hucksters stinkin' up the track. So before I launch into the writing of Book Three, let me establish my bona fides up front, with some key visual veracity.

You were an East Village punker girl? ORLY????

TRUE DAT. 611 E. 11th St., to be specific.

SRSLY? Like, a real punk laydee, for more than, like, a weekend?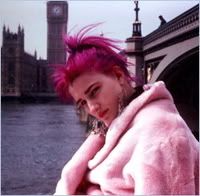 TRUE. DAT. Punkin' it up for Big Ben here.

Was your geek *ss really in PLAYBOY?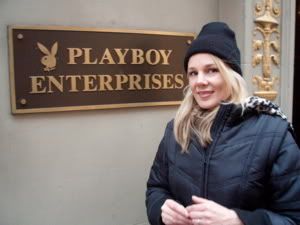 Believe, grasshopper! Yes, I was, back in that Age of Innocence known as The 90s. I'm just in front of the plaque on 5th Avenue here. The Bunny's got some pretty stringent copyright restrictions regarding image use, and I'm not willing to get my geek *ss sued just so you'll believe me. (Also? Nude photos of yourself on your author blog? Um, ew.)


R U rilly an Army wife now? For realz?


Yep. But this guy in the photo is not my husband. He is GEN Peter Schoomaker, former Chief of Staff of the Army. We sat near each other at Army/Navy, and since he's a rodeo fan, I gave him a copy of my estrogen-rich rodeo novel, TRY. He even sent a thank-you jotting! Officer and gentleman! Noted!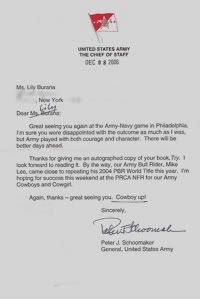 Within Army culture, it's considered wildly uncool for soldiers to be self-promoting or attention-seeking (writers know no such stigma, thank gawdz), so hubs is camera shy. But since the book is called I LOVE A MAN IN UNIFORM, herewith is the a photo of the Uniformed Man in question. It's the back of his head, with the West Point corps of cadets in the background. BTW, he's not picking at a big ball of earwax, he's adjusting the ear piece on his phone. Honest!!!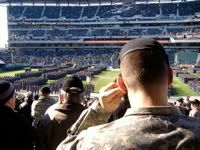 OH SHORE. ADMIT IT, you're not only not a writer, you're not a human. This photo proves that you're really a space mermaid who spends her days eating underwater Saltines and occasionally coming ashore with your pink-haired cohort.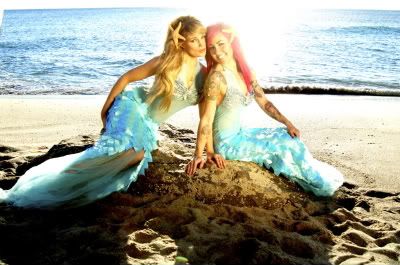 This is most assuredly NOT true, and I am still terribly, terribly bitter about it. I could make a sweet life breathing through gills. And I'd save a TON on shoes 'cuz I gots no feets.

I hate that there's so much b.s. in memoir-ville that we have to read through a scrim of doubt, but I'm doing what I can to hatch some trust. Now that I've posted some ancient pics in hopes of establishing a soupcon of cred, I gotta stop eating crackers and start writing. Thanks, Weinstein Books, Thanks, U.S. Army, Thanks, Jesus, and Thank YOU, Leopard Print Mafia. xoxoxoxoxoxoxo